Dear Kurukulla Community,

Thank you for your continued dedication and support of the Center. Our sangha will be heading to Toronto on Wednesday for a week to have teachings with His Holiness the Dalai Lama, but that doesn't slow down the continual hustle of activity at the Center!


Geshe-la update
Geshe-la joyfully completed the tenth chapter of Shantid eva's Bodhicharyavatara this morning, "Dedication."In so doing, he has now offered teachings on the entire text, rejoice!We were also fortunate enough this morning to be able to offer Geshe-la our "Commitment Cards," our promises to rededicate ourselves to the practice of Dharma in every moment of our lives.
Although mentally acute, Geshe-la appeared physically tired this morning, and this exhaustion can be understood as an exhaustion of the merit of his students.He has recently asked his students in Sera Monastery to recite The King of Prayers and Chanting the Names of Manjushri in order to accrue more merit, and we recommend that everyone at Kurukulla take up reciting these prayers, and dedicating all of the merit to Geshe-la's continued health and long life, as often as possible. If you click the titles above you can download PDFs of the texts, which you can also find on the KKC Resource page.
Although we encourage you to do these on your own, we will be organizing some group recitations at the Center as well. We will have optional recitations after the Wednesday night classes starting this week, and will alert you to more schedule group recitations as they are scheduled.
These week's tallies of practices for Geshe-la's health are:
Vajrapani mantra - 87 malas
White Tara mantra - 79 malas
Tara Pond Completion
This weekend saw the completion of our Tara Pond, with water flowing this morning!All that remains, for both the pond and the stupa, is to install the deities and the protective glass enclosing them. That said, as the stupa project expanded so did our expenses, and we still have about $20,000 to raise to have successfully completed the entire project, so please donate what you can and mark any donations as "stupa."Thanks!Enjoy some more pictures of the completed Tara Pond in our Facebook album.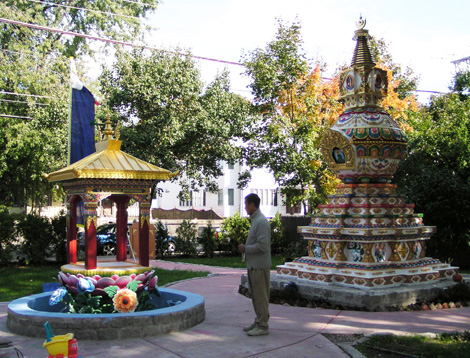 Kurukulla Center Membership
I recently sent out an email asking for your end-of-year support, through memberships and special gifts and we'll be sending out a similar email again! We have slightly changed our membership categories to more closely parallel FPMT's, you can see the Membership categories and sign up online at our Membership page. Thank you for giving it due consideration and for your generous responses, it is your kindness and generosity that allow the Center to continue to offer so many amazing opportunities to study and practice the Dharma. Please do what you can. Thank you again.
Kurukulla South
Last week saw the successful third installment of Kurukulla South, our venture to offer Dharma to Center members, old and new, who live south of Boston and in Northern Rhode Island. This current series of classes, exploring the three foundations of the path as taught in Lama Zopa Rinpoche's Virtue and Reality, being taught by co-SPC Tsültrim, will run through November 2.
Similar to all of our classes, we offer the Dharma for free and neither charge nor have a suggested donation for any of these classes. That said, we could use your support as we continue this project, as we do have some fees, such as space rental, etc. If you're as excited as we are about this new venture, and sharing the Dharma to a wider audience, we encourage you to donate to this project, being sure to mark any donation with "Kurukulla South" in the memo field or on the envelope. Thanks!
Golden Light Sutra Recitation
There is no class next Sunday morning since Geshe-la will be in Toronto to see His Holiness the Dalai Lama.Instead, we will be offering a group recitation of The Sutra of Golden Light.We encourage everyone to come, or listen online! Please check the Calendar online or below for more details.
8 Great Mahayana One-Day Precepts and Sanghata Sutra Recitation
Next week, Friday October 29, is the Tibetan Buddhist holiday Lhabab Duchen, as well as a Sanghata Sutra recitation day. Geshe Tsulga is planning on offering the Eight Great Mahayana One-Day Precepts at 6:00 am, and there will be a sutra recitation at 2:30 pm. We will provide more information next week, or you can visit our Calendar.
Info about this week's classes
As the sangha will be leaving for Toronto Wednesday morning, in place of Geshe Ngawang's regular class on 37 Practices of Bodhisattvas, Damchoe will lead us in a discussion group about the text that we have covered so far.After the discussion we will have a group recitation of The King of Prayers as well as Chanting the Names of Manjushri.
Halloween Candy
It's that time of year again! Kurukulla Center is known for giving out some of the best candy in the neighborhood, so let's keep our reputation going! In addition, Geshe-la blesses all of the candy before we give it out, so we get to plant positive seeds in the hearts and minds of everyone who we share the candy with.Ven. Tsunma-la, who hands out the candy every year, requests the slimiest, gooiest, most Halloween-iest, delicious candy you can find! The kind of candy that gives dentists nightmares! The dogs accompanying the costumed kiddies deserve treats too, so feel free to bring in healthy dog biscuits as well.There is a box for offering Halloween candy near the gompa, donate what you can!
Upcoming Tara Initiation

We are very fortunate that Geshe-la would like to offer a Green Tara Initiation before he leaves for India for the winter. It will be on Sunday November 7, from 10:00 am to 12:00 pm. The commitment that Geshe-la will expect of all attending the Green Tara Initiation is to recite the ten syllable mantra (OM TARE TUTTARE TURE SVAHA) 100x daily (one mala). If one is already reciting the mantra 100x or more daily, then that's enough; no need to add this on top of that. One can attend the initiation only if one is committed to reciting the mantra. If one cannot commit to doing this, then one cannot attend the initiation, even as a blessing.
According to Lama Zopa, "There are so many inner obstacles to the development of your mind, and these inner obstacles create many outer obstacles. Therefore, for the success of your practice, you must rely upon a special buddha such as Tara. All the actions of the buddhas have manifested in this female form, Tara the Liberator". We encourage you to reflect on your practice and if you are able to keep Geshe-la's commitment please attend the Initiation, it is a wonderful opportunity.
Thank you again for your wonderful support.
Much love,
Nick Ribush
Director