Dear Kurukulla Community,
Thank you all for your continued support of Kurukulla Center, and your commitment to studying and sharing Dharma!
For those who were not able to join us last week, a number of us made a short journey up to Maine last weekend to spread Geshe Tsulga-la's holy ashes. You can read about the day and find links to some photo galleries at www.kurukulla.org/AshesCeremony2011.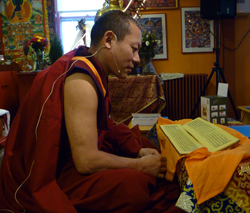 In class today, Geshe-la spoke not only about the importance of making effort. Part of the reason we study the biographies and stories of our sacred teachers like Atisha is not so we can be simply entertained, but so we can learn from their example. We can see the incredible amount of effort they put in to studying and sharing Dharma, and that increases our faith and devotion, and inspired us to put in more effort of our own. The results we receive are commensurate with our effort we exert. We rejoice in the great efforts Kurukulla Center members make toward living Dharma every moment, and we hope to continue to be a beacon for Dharma and compassion in the world. Join us in renewing your effort and dedication to the Dharma, to the communities that make Dharma accessible to others, and to all sentient beings!

Stupas for Geshe Tsulga
Monks and artisans in India are currently building two small, silver stupas which will house Geshe Tsulga-la's relics. The larger of the two will be about 4 feet tall and will stay at Sera Je monastery. The smaller of the two will be between 1.5 - 2 feet tall, and will eventually come to reside in the gompa at Kurukulla Center. We are excited to offer the opportunity to all Center members and students of Geshe Tsulga-la to help sponsor these stupas, as the total price of construction will be just over $7,000.00, in addition to the cost to ship the smaller one to the USA. Kurukulla Center will be sponsoring both stupas, and it is an amazing opportunity to be able to contribute to these memorial stupas, whatever size offering you can make. Please mark any offerings as "Geshe Tsulga Stupas," whether it is in the memo field of the check, written on the outside of the envelope if you're offering cash, or if making an offering online with PayPal, after inputting your donation amount you will see a link to "Add special instructions to the seller," and you can indicate it there.
Venerable Amy Miller returns to Kurukulla Center February 2011
It is with great enthusiasm that we are able to invite Venerable Amy Miller to return for a new series of courses in early February. She will be teaching courses and leading a mini-retreat/practice intensive which are appropriate for all levels of practitioner. There are a lot more details, as well as a flyer available for download, available at www.kurukulla.org/VenAmyMiller2011. Please spread the words about these amazing opportunities, and print and email the flyer around to anyone who might be interested. As always, all of our Dharma teachings are entirely free of charge.
We will need a number of volunteers for Ven. Amy's visit, everything from setting up before teachings to helping with food shopping, as well as a number of other tasks. Anyone who is interested in offering service can email Tsultrim at tsultrimdavis@kurkulla.org for more information. This is a great opportunity to earn merit, we encourage you to help as you can.

Monk Sponsorship for House 2A in Sera
We are delighted to announce that the monk and nun sponsorship for monks and nuns affiliated with House 2A at Sera Je monastery will continue, albeit in a slightly different way. As of 2011 donations will not go through Kurukulla Center, as a new non-profit organization has been started just for this purpose, and it is under the leadership of Ven. Tsunma-la. Please visit www.geshetsulga.com for more information.

Prayer for Sale of Property
As we have mentioned before, there is a student who is willing to make a substantial donation to Kurukulla Center if she can sell a piece of property she owns in Europe. Lama Zopa had advised that we recite the short Padmasambhava Wish Fulfilling Prayer every day and dedicate the merit toward the sale of the property, which will be an incredible boon for the spreading of Dharma and for Kurukulla Center.

Snow Emergency Parking
In general, if there is a declared snow emergency we will probably not be holding class. However, in the case there is class, please be aware that during a snow emergency parking is only allowed on the even side of Magoun Avenue (the same side as the Center) and parking is not allowed at all on Washington Street, the street behind the Center. We will do our best to keep the driveway as clean as possible and advise you fill the driveway first. Thanks!

Practices for Khen Rinpoche Lama Lhundrup
Khen Rinpoche Lama Lhundrup is the current abbot of Kopan Monastery in Nepal, the "wellspring of the FPMT," and the former abbot of Sera Je Monastery in India. He has been having health problems, and a week ago Lama Zopa Rinpoche advised him to be treated in a hospital. In the meantime, for those who wished to do prayers for Khen Rinpoche's health to improve, Lama Zopa Rinpoche said that the practices on the part of students which would be of most benefit are:
1. Read Long Life Sutra
2. Read Guru Rinpoche's Prayer Eliminating Obstacles
3. Engage in tong len practice
Thank you again for your wonderful support.
Much love,
Debra Thornburg
Director