Kurukulla Center Special Events
His Holiness the Dalai Lama visits Kurukulla Center September 12, 2003
Listen to His Holiness' address to the Kurukulla community in the gompa, Director Wendy's Cook's thank you to His Holiness, and His Holiness' address to the crowd in the back garden:
Play using RealOne Player
Play using QuickTime Player
Play using Windows Media Player
Play using any MP3 Player
Read an edited transcript of each address.
Wendy Cook, the Director if Kurukulla Center, writes an account of the visit: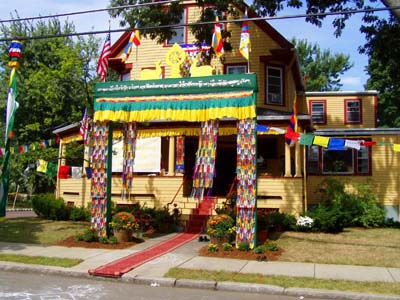 Last Friday, September 12, on a perfect late summer's day, His Holiness the Dalai Lama visited Kurukulla Center. Everybody who was there, whether inside the gompa, in the flower garden or out on the street, had a wonderful and blissful experience. This includes not only Kurukulla Center members and friends but also neighbors, invited guests from the community, the police and, perhaps most especially, the Mayor of Medford.
We had a carefully planned program based on instructions given by His Holiness's office and what Geshe Tsulga wanted us to do. However, from the outset His Holiness took charge, threw the program out and something more amazing happened.
Photo by Jim Bourg
It started with His Holiness deciding to stop 400 yards from the front door and walk along rows of people standing behind police barricades, greeting Tibetans, neighbors and friends, giving blessings, shaking hands and smiling. His Holiness walked underneath a traditional Tibetan gate (like an arch) covered in brocade to the sound of Tibetan singing. Once inside, His Holiness was introduced to the distinguished guests, the first being the Mayor. His Holiness immediately asked for a khata from a member of his entourage and presented it to him. After being introduced to several others and a group photo, His Holiness was asked to bless an architectural model which had been donated, showing a future vision. His Holiness glanced at it and in the next instance turned around, beckoned for the Mayor, grabbed his hand and led him into the gompa, which I believe really was blessing our vision of growth. (Of course, the plan had been to escort the Mayor and other distinguished guests to the garden as we had limited space in the gompa.)
Photo by Kris Snibbe
As soon as His Holiness walked into the gompa he went straight out onto the back porch, still holding the Mayor's hand, to greet the 150 people in the flower garden (according to the plan, this was supposed to happen after the consecration). He then set the Mayor up in a chair at the front of the gompa, sat down on the throne and Geshela offered a body, speech & mind mandala. Our plan was to offer the usual
Photo by Kris Snibbe
chanting and prayers that we do before teachings but His Holiness wasn't very interested in that. He cut us short and instead gave us a 20 minute teaching. Actually, I have no idea how long the teaching was -- it felt like an eternity. It was more than we'd dare hope for. It was a wonderful, secular teaching and we plan to
have it on our website, along with photos, as soon as we can.
Photo by Jim Bourg
After the advice and a quick consecration, I manage to slip in a part of the fast-disappearing plan and delivered a few words expressing our deep gratitude. Then His Holiness went again out onto the porch and began addressing the back garden people for another 10 minutes, which was unplanned. (Actually, the people at the front and back of the house heard everything over a crystal clear PA system.) At just about this time the US Congressman, who'd been unable to make it for the start of the event, arrived and His Holiness then had not only the Mayor in tow but now a Congressman. The next part of the "plan" was to have been a few quiet minutes with Geshela up in his private quarters, but instead about 25 people followed His Holiness upstairs (yes, the Mayor and the Congressman, too) and Geshela's room was blessed. Then after having graced us with His presence for about one hour, it was time to say goodbye His Holiness.
Photo by Kris Snibbe
For the next 2 or 3 hours everyone stayed to enjoy refreshments and to dwell in the joy and radiance we felt from having been in His Holiness's presence. We are all so grateful to Geshe Tsulga, for without him, the visit would have never happened. And without Lama Zopa Rinpoche and Lama Yeshe, Geshela would not be in Boston, nor would there be a Kurukulla Center, so we remember Rinpoche and Lama's kindness, too.
Even two days later everyone I see from the Center is still blown away from our experience. May it be the cause of our only pleasing our holy Gurus, never be separated from them and may we all quickly become enlightened for the benefit of all.
Much love,
Wendy